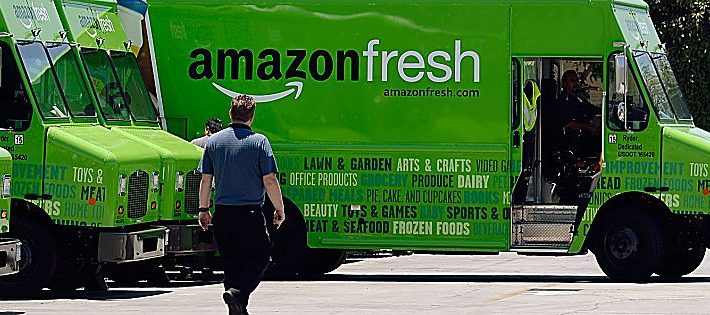 amazon meal kits come funziona
Anche nel comparto della food delivery Amazon si sta espandendo, e con Amazon Meal Kits potrebbe sbaragliare presto i concorrenti.
Il colosso guidato da Jeff Bezos sta puntando molto sul settore food & beverage. A giugno 2017 ha acquistato per 14 miliardi la catena di supermercati Whole Foods, e il 2017 è anche l'anno di arrivo in Italia di Amazon Fresh Food, servizio per gli iscritti ad Amazon Prime Now. Con Amazon Prime Now, arrivato in Italia (per il momento solo a Milano e hinterland) nel 2015, è possibile avere in consegna i prodotti ordinati (cibi e bevande comprese) entro un'ora dall'ordine o in una fascia di due ore indicata. Amazon Fresh Food è il servizio riservato agli iscritti ad Amazon Prime Now che consente di avere entro un'ora frutta e verdura fresche in casa o in ufficio, e che è presente in Italia (Milano) dal febbraio del 2017.
Nel frattempo Amazon sta investendo anche sul fronte Meal Kits, con il claims "We do the prep. You be the chef". I Meal Kits non sono piatti già totalmente pronti ma scatole che contengono tutti gli ingredienti (più o meno arricchiti o lavorati) per preparare un piatto e le istruzioni. Ci sono anche veri e propri menù ideati da chef, già predisposti per essere preparati. Gli ingredienti sono freschi o surgelati, sono perfettamente dosati per due persone, e vanno solo "riassemblati" seguendo le istruzioni. L'idea – che punta a unire la comodità con il piacere e la soddisfazione di cucinare "da chef" – non è nuova. A proporre un servizio simile negli Stati Uniti ci sono già Chef'd, Plated, Home Chef, Munchery, HelloFresh e soprattutto Blue Apron, startup con sede a New York fondata nel 2012 da Matthew Salzberg. Blue Apron è stato uno dei fenomeni di borsa più importanti del 2017, con le azioni che a giugno – all'offerta iniziale – erano già collocate a 10 dollari. Ma a luglio la notizia dell'ingresso di Amazon nel comparto Meal Kits ha già fatto scendere dell'11% le azioni di Blue Apron (a 6,51 dollari). E l'Italia? Nel nostro Paese c'è già un'azienda che vende Meal Kits, ed è Fanceat, con sede a Torino, menù ideati da grandi chef e forti prospettive di crescita. Ora però dovrà fare i conti con Amazon. Non c'è ancora al momento una data ufficiale per l'arrivo in Italia di Amazon Meal Kits, ma il servizio è già partito negli Stati Uniti e promette di estendersi a macchia d'olio nei prossimi anni.